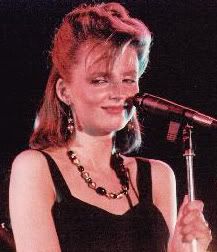 One could make the argument Scottish pop peaked during the years 1980-81. Acts left over from the punk explosion, like
Scars
and
The Skids,
were still churning out quality material;
Orange Juice
and
Josef K
were leading the much ballyhooed
Sound of Young Scotland
charge; and a treasure trove of extraordinary new wave bands emerged:
Altered Images,
Associates,
Simple Minds.
And while acts like The Skids were cementing their status as their country's best punk band, Orange Juice was crafting the template for indie pop, and Associates were exploring sonic territory no other Scottish act ever had, none possessed what made Altered Images so distinctive:
Clare Grogan.
She was discovered by director
Bill Forsyth
at a
Glasgow
eating establishment named the Spaghetti Factory and cast as one of the lead roles in his 1980 flick
Gregory's Girl.
Grogan rose to prominence with Altered Images the following year and those who raved about her acting performance now learned something else: The girl with the on-screen effervescent charm and schoolgirl-cute looks could also sing irresistible pop tunes.
There's a picture I have of Grogan taken during an Altered Images gig (not the one seen above, though close). Pouting lips, too much eye makeup, teased hair in the eyes, a look of feigned innocence on her face -- Grogan strikes a pose and melts a heart. "Vibrant, vigorous, and cocquettishly teasing" was how she was described by one music scribe, and you could see it all in this photograph. In the 1980s, there wasn't a more glamorous frontwoman in the U.K.
Hear it for yourself.
Download:
"Beckoning Strings" by Altered Images.
A fitting song title, really, since Altered Images' sound -- thanks largely to Grogan's lump-of-sugar sweet voice -- was so tantalizing.