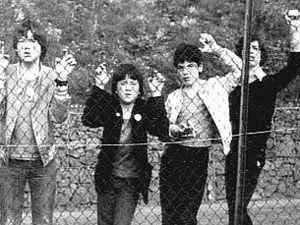 "We're now getting the worldwide acclaim we craved 20 years ago," Paul McLaughlin
joked.
And he can thank
Jonathan Demme
for that, a man McLaughlin had never even heard of until the fateful afternoon the
Academy Award
-winning director's office gave him a jingle.
The story of McLaughlin's pre-teen punk outfit becoming Hollywood media darlings (if only for the short lifespan of your typical summer blockbuster) was well documented two years ago. McLaughlin, frontman to
Inverness'
The Prats,
was commuting from
London
to his home in Chelmsford when Demme's people called. Is this
the
Paul McLaughlin? Why yes, it is. Would it be okay if use your song "General Davis" in the movie we are filming? But of course . . . this is a cruel joke, right?
It wasn't. A 45-second snippet of "General Davis" was featured during the opening credits of Demme's big-budget remake of
The Manchurian Candidate.
And just like that, The Prats had become one of the least unlikely bands to be immortalized on a movie soundtrack.
However, even without this second act, The Prats' career is an interesting one. Formed in late 1977, the members of the group ranged in age from 12 to 15 and were all students at St Augustine's Roman Catholic Comprehensive School. McLaughlin, a wizened 13 at the time, was initially too frightened to tell his mum he was in a punk band; after-school hours were being spent playing tennis, he informed her.
Eventually, Mrs. McLaughlin learned of The Prats thanks to the tiny bit of fame the band achieved:
John Peel
offering his DJing fee from an
Edinburgh
event to finance one of the band's releases; a No. 20 spot in the UK indie chart with "General Davis"; a one-off performance at The Factory in
Manchester.
Hear it for yourself.
I've had a bit of trouble securing an mp3 of "General Davis," so in the meantime, here's
"Disco Pope,"
which was a single released on
Rough Trade
in 1979.