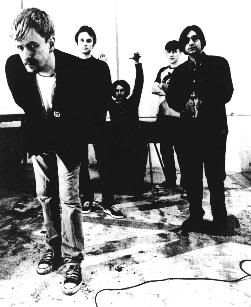 BMX Bandits,
purveyors of fine guitar pop, are known for their status as a launching pad for other Scottish acts. And the irony is, many of these bands garnered more attention and renown than the Bandits themselves.
Founding bassist Sean Dickson went on to form
The Soup Dragons
; original guitarist Jim McCulloch later joined him. Norman Blake hopped on board in time for the BMX Bandits' debut album,
C-86
(cheekingly titled so, because the group's single was rejected by NME for that
compilation
), but then bid adieu –- and took drummer Frances McDonald with him –- to start up
Teenage Fanclub.
Bassist Joe McAlinden also departed to form Superstar.
And we haven't even mentioned
Eugene Kelly,
who joined BMX Bandits following the dissolution of his previous outfit,
The Vaselines
; he gave it a whirl for an LP and an EP, before running off to start up Captain American, later re-dubbed
Eugenius.
There was just as much instability when it came to who the group was recording for (this, coupled with the constant lineup rejiggerings, may have explained BMX Bandits' continuing struggle to escape cult band status). The Bellshill act initially signed with
Stephen Pastel's
53rd and 3rd Coutts
label. Sojourns at
Vinyl Japan
and Click followed.
The track featured here is the band's most well known and was their first single for
Creation Records,
which they inked a deal with in 1993. Funny thing is, landing with a spaz such as
Alan McGee
actually brought BMX Bandits some stability, as they released three LPs with the label in three years.
Hear it for yourself.
Download:
"Serious Drugs" by BMX Bandits.