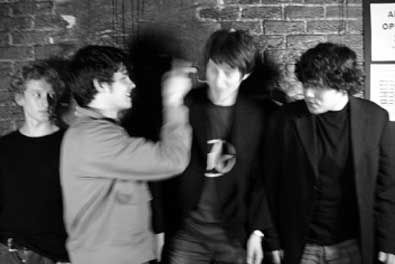 Things are moving rather quickly for
The Cinematics,
regularly regarded as one of Scotland's best new bands.
One of their tracks was featured on the soundtrack for
Transporter 2.
In March, they completed a successful, one-month tour of England, playing gigs in everywhere from
Stoke-on-Trent
to
Sheffield.
Two sets at the
SXSW Festival
then followed. And just last week, the band opened up for
We Are Scientists,
playing before a sold-out crowd of over 2,000 at
Shepherds Bush Empire
in London.
The Cinematics have certainly come a long way from their roots -- a tiny hamlet in
the Scottish Highlands
named
Dingwall,
a place where the livestock outnumbers the people 20 to 1. (Their words, not mine!) And while you can take the boy out of the Highlands, it's apparent you can't take the Highlands out of the boy; The Cinematics' music can be as lush as a northern pasture filled with
yellow mountain violets,
as moving as a
sunset over Loch Leven.
Glasgow
is The Cinematics' current base of operations. There, they've become regulars at venues like
King Tut's.
In between shows, the group cut a single, "Chase," with noted producer
Stephen Hague,
who previously worked with acts such as
Public Image Ltd.
and
The Pet Shop Boys.
An LP is forthcoming.
Hear it for yourself.
Download:
"Chase" by The Cinematics.