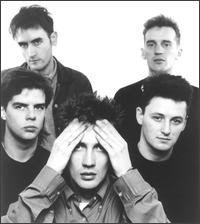 Fans gobbled it up; critics and musicians derided it.
It
was
C86,
a compilation cassette issued by
NME
back in 1986 (and later sold on vinyl by
Rough Trade.
) Over the years, it's become one of indie music's most-talked about compilations, inspiring zealous fans to speculate what material would have been issued on
subsequent releases,
or conversely, spurring zealous haters to spew a bit of vitriol. (Journalist David Cavanaugh summed up the scene as, "A helter-skelter, jangly racket performed by four or more pale boys with hurt feelings.")
The compilation's origins go back five years, when the NME experienced overwhelming success with its
C81 tape,
a compilation featuring acts like
Cabaret Voltaire,
The Red Krayola,
and
Subway Sect,
as well as Scottish artists
Orange Juice,
Josef K,
and
Aztec Camera.
Another collection, Jive Wire, was issued in 1982; more followed every few months in the coming years.
Theories abound regarding why the C86 comp had the
sound
it did. Some speculate the tape came as a result of the power struggle then taking place at the NME: those wanting to cover hip-hop jostling with those wanting to cover guitar pop. Nineteen eighty-six was also dominated by the guitar-laden dazzle of
The Smiths'
The Queen Is Dead.
Who better to showcase then bands emulating them?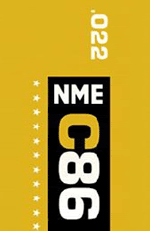 Like its predecessor, C86 was a huge success with fans. Many critics, however, didn't especially care for the compilation, saying the tape's 22 tracks were skewed too much towards one particular sound. Fellow musicians weren't sold either, mainly on account of the music's stripped-down, guitar-heavy leanings. Gone were the flecks of disco, soul, and funk mixed in by many of the bands on the C81 tape. Gone were the black influences.
C86 featured a number of Scottish acts, including
The Close Lobsters.
Interestingly enough, singer/songwriter Andrew Burnett was
asked about
the entire
scene
years later and had this to say: "C86 was a fantasy conjured out of thin air by the staff at the NME newspaper to generate some interest in a flagging UK music scene after the Underground Anarcho explosion of the early '80s."
A quick sidenote: Plans to commerate the 20th anniversary of the compilation are in the works. A series of nightly gigs -- much like the
ones
Cerne Canning and Simon Epslen put together at London's Institute of Contemporary Arts to promote the cassette -- are tentatively planned.
Hear it for yourself.
Download:
"Words On Power" by The Close Lobsters.