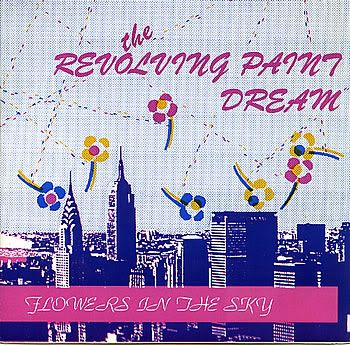 Okay, see if you can keep up.
It's 1977; setting: Glasgow. Andrew Innes -- part-time
lizard theorist,
full-time guitarist -- has popped his musical cherry in The Drains. Through an advert, Innes meets fellow Glaswegian
Alan McGee,
who in turn, introduces him to an old chum of his,
Bobby Gillespie,
who of course will later join Innes in
Primal Scream.
McGee later forms H2O and when that act's guitarist splits, brings Innes in to replace him. The pair then ditch that band, nick guitarist Neil Clark, and form Newspeak. That outfit ultimately evolves into The Laughing Apple, which releases three singles and tours throughout London, but is largely ignored by music fans -- except Jerry Thackray, who cuts a few tracks for McGee's later endeavor,
Creation Records,
which issues material by Innes' later collaborations. Eventually, Innes strikes out on his own, founding The Formica Tops, before settling down with gal pal Christine Wanless (who joined Innes in doing some work with McGee's band,
Biff Bang Pow!
) and Luke Hayes in
The Revolving Paint Dream,
who, like Biff Bang Pow!, take their name from a song by
The Creation.
Got all that?
The Revolving Paint Dream's
"Flowers In The Sky"
was the second single released by Creation. It was a nice slice of psychedelica, complete with fizzy guitars and simple, seemingly LSD-inspired lyrics. After bouncing from band to band, all over Scotland and England, Innes had finally found some success; "Flowers In The Sky" entered the indie charts at No. 35.
Hear it for yourself.
Download:
"Flowers In The Sky" by The Revolving Paint Dream.
Also, for kicks, I included Creation's first-ever release, a single from the aforementioned Thackray, who performed under the pseudonym, The Legend! Always good for a chuckle. Download:
"73 In 83" by The Legend!