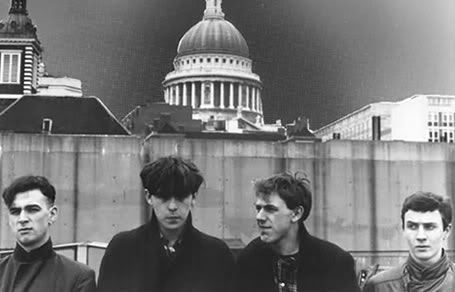 "Haud yer wheesht!" was shouted on more than one occasion.
Okay, so we don't know this for a fact, but we can assume it
must
have been. How else would you tell the choob you share a place with to shut the fuck up? You know, the one who insists on tooting his braying trumpet several hours a day, honing his chops to
The Jasmine Minks'
"Think."
Eventually, said choob, Derek Christie, perfected his technique -- and bolted. He thumbed his nose at his flatmates and then thumbed
more than 500 miles from Aberdeen to south London.
Didn't put his small bag and trumpet down until he was ringing the buzzer to Jim Shepherd's flat. For you see, Christie and Shepherd were school chums, dating back to childhood days spent among the sparkling granite of Aberdeen; the latter was also the singer/main songwriter of the aforementioned Jasmine Minks, one of
Creation Records'
most overlooked (and first) bands.
A few hours after arrival, the requisite reminiscing out of the way (Shepherd had memories of Christie being a garden-variety
cornet
player), the pair started hammering out trumpet parts for songs. "I had been writing a new tune," Shepherd explained on the band's web site, "and Derek just started elaborating over the top of the melody like a mad backing singer." The choob was now an official member of one of the 1980s' most infectious, soulful guitar pop bands -- and helping to broaden the band's still-developing sound.
The lesson? Turning one's flatmates into lifesworn enemies isn't necessarily a bad thing.
Hear it for yourself.
Download:
"Cry For A Man" by The Jasmine Minks.
A track that builds with some catchy bass and simple drum fills, until the tension is released with a frenzied, horn-driven, power section.