Simply put, the mid- to late-70s Scottish punk scene rarely attracts the attention it rightfully deserves. In response to that, I've put together a timeline (which will be posted in installments throughout the week), chronicling the short-lived movement's most significant events. This timeline, together with a recent
story
I did for
Stylus,
should serve as a good primer for those looking to get into the scene.
And away we go . . . .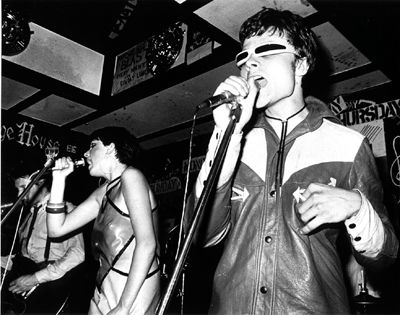 1976
March
Rising from the ashes of the party band The Knutsford Dominators comes
Edinburgh's
first punk group (though they've often labeled themselves otherwise, usually new wave ):
The Rezillos.
The eight-piece group forms at
Edinburgh Art College,
and features members named Hi-Fi Harris, Candy Floss, and William Mysterious. The Rezillos' first official gig comes later in the year, however, on
Guy Fawkes Night.
May
Copies of
The Ramones'
self-titled first album start to appear at record shops in
Glasgow.
Three months later, one of the songs on the LP, "Now I Wanna Sniff Some Glue," touches off a firestorm in the city, on account of the recent rash of Scottish teenagers inhaling solvents. MP James Dempsey of Scotland calls for the record's outright banning in the country.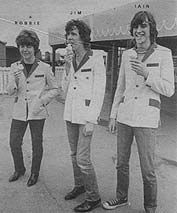 September
There's considerable debate over just who was the first punk act from Glasgow:
Johnny & The Self Abusers
or
The Jolt.
According to Self Abuser vocalist
Jim Kerr,
it was
his
group, seeing how The Jolt are comprised of four blokes from Wishaw and Shotts, two small towns located outside Glasgow. Also, worth mentioning: When The Jolt come together in September of '76, they were initially a '60s-style rhythm and blues outfit. Punk came later.
October 12
The Sex Pistols
make the first of what will be just two trips to Scotland (the other comes during the group's reunion tour: July, 16, 1996, at the S.E.C.C. in Glasgow.) The venue:
Dundee Technical College.
The band gets pissed on 10-pence pints, and is convinced to due an encore by fans, who pepper their dressing room door with beer cans.
November
The Sex Pistols announce plans for a UK tour. Two of their stops will be in Scotland. On the 26th of the month, the group's landmark single
"Anarchy In The UK"
is released.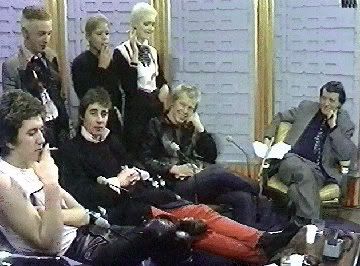 December 1
"What a fucking rotter." These, and a few other choice words are uttered during The Sex Pistols now legendary
interview
with
Bill Grundy
on Thames Television's "Today" program. In the days to follow the band is skewered in the
tabloids.
The resulting fallout reaches all the way to Scotland, as Robert Gray, chairman of the Glasgow District Council licensing committee, announces he will close the
Glasgow Apollo
for the Dec. 15 Pistols show. The tour's other Scotland date (Dec. 16 at Caird Hall in
Dundee
) is also cancelled.
Hear it for yourself.
Download:
"I Can't Stand My Baby" by The Rezillos.