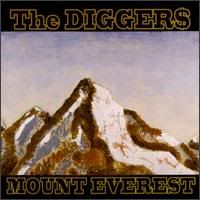 Bands are always experiencing relative stumbling blocks: a rehab stint here, a nervous breakdown there. But crashing your car into a herd of cows?
Such a calamity befell
Glasgow's
The Diggers
in 1993. The fledgling four-piece act was gaining momentum on the local circuit thanks to the strength of its live shows and several recorded demos. But then the dream was put on hiatus for six months when guitarist John Eslick's automobile went hurtling into said bovines, and he fell into a coma. Fortunately, Eslick fully recovered and the lads regrouped soon after.
The Diggers eventually found an avid supporter in
The Boo Radleys'
Martin Carr, who passed their demo tape onto Alan McGee. The
Creation Records
head eventually attended one of their rehearsals, dug what he heard, and four months later, following a performance at the
T in the Park
festival, signed them to Creation. The single
"O.K. Alright"
(one of the last Creation ever released) and an opening slot with labelmates
Super Furry Animals
followed, before The Diggers released their debut (and only) album,
Mount Everest.
Hear it for yourself.
Download:
"Waking Up" by The Diggers.
A quote from bassist/singer Alan Moffat sums up their sound: "We're not into the cult of the personality stuff, or paying homage to the past. We're striving towards being a truly original pop band:
Take That
with guitars!"