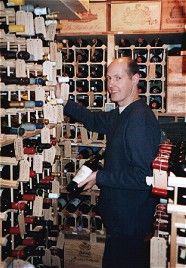 He once traveled throughout the U.K., his band doing opening gigs for synth pop superstars
The Human League.
Today, as his
web site
puts it, he "travels to Bordeaux, and the magnificent Chateau Beychevelle, to taste through 50 years of wine history."
During a March of '81
Peel session,
he busted through a rendition of "Yakov Bok," a song that takes its title from
The Fixer,
a novel about a rural Ukrainian handyman jailed for a crime he did not commit. Now, he's tasting (and writing about) wine such as the Ukraine's
Massandra Pink Muscat.
Yeah, Tom Cannavan has come a long way since his days fronting the Scottish post-punk band Restricted Code. He's since put away the guitar and departed the indie music scene. (Though he is still listening; his "Best of 2005" picks listed
Antony & The Johnsons'
I Am A Bird Now
as his favorite "thing" from last year.)
Today, Cannavan dedicates his creative energies to wine, which he admitted has been a fancy of his since his school days. He's been running wine-pages.com since 1995, making it one of the Internet's oldest wine sites. He's editor of
Fine Expressions,
a bi-monthly magazine dedicated to wine and other spirits. He's also penned a
book.
The song presented here is "From The Top," which was Restricted Code's first single on
Bob Last's
Pop: Aural label. It's a danceable number with a robotic-sounding bass and bursts of jangly guitar. Think latter-day countrymen
APB,
only with darker tones. Of course, one can't help but wonder what wine Cannavan would suggest to compliment it.
Hear it for yourself.
Download:
"From The Top" by Restricted Code.