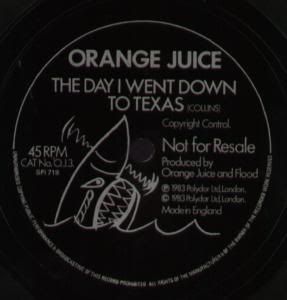 It's a song that harkens back to the
Postcard
era. To a time of DIY ethos, unbridled energy, and child-like innocence and amateurism. To a time when
Orange Juice
were just four chums trading
Velvet Underground
records, donning
Davy Crockett-style coonskin caps
and playing the theme song from
"The Mary Tyler Moore Show"
at gigs, cutting tracks in a ramshackle Paisley studio with an accordion expert named Mr. John McLarty -- having grandiose pop dreams featuring a
London
flair and setting.
Orange Juice's
"The Day I Went Down to Texas"
-- recorded four years after their breakthrough with Postcard -- was an allegory for heading to London. The capital was where U.K. bands relocated to secure that much sought-after record deal, nab a few graphs in the music papers, become part of the thriving club scene. London meant two things to dewy artists: fortune and glory.
Surprisingly though, Orange Juice stuck it out in Glasgow during its early years. "They were Glasgow-based for quite some time," said Norman Blake in a
Leon McDermott piece,
"and the legacy of Postcard is that people tend to stay here as opposed to moving to London to look for a record deal. There's an infrastructure here which simply didn't exist then, and people are more confident of seeing themselves as Scottish bands."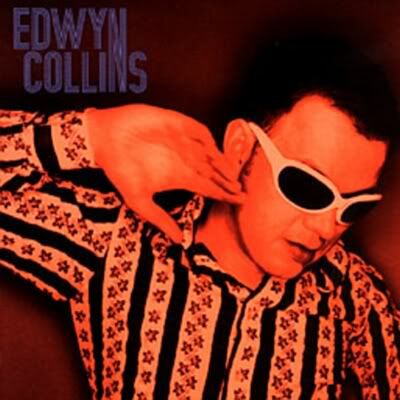 By 1984, Orange Juice had finally made the move. Singer/songwriter
Edwyn Collins
took up residence in a 1930s semi-detached on Hanover Road in
Willesden.
The House of Camp it was dubbed, and some rather bizarre and sophomoric things went on there, to say the least. (The sleeve for
Texas Fever,
which features the aforementioned "The Day I Went Down to Texas," will provide one with clues.)
Collins didn't remain in London long, however. Orange Juice was through by the beginning of 1985 and three years later, he moved to Cologne, Germany, pursuing other
endeavors.
Furthering his search for fortune and glory.
Hear it for yourself.
Download:
"The Day I Went Down To Texas" by Orange Juice.