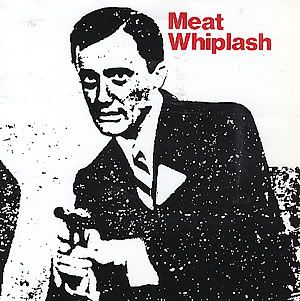 History has relegated them to mere footnote status. "Meat Whiplash? I think I've heard of 'em. Weren't they one of the bands at the
Jesus And Mary Chain riot?
" (Note: This response would likely be typical of those individuals living north of the Pennines. Those south might respond: "Meat Whiplash? Why of course. Wasn't that the Plymouth record shop run by Jeff Barrett, founder of
Heavenly Records?
")
Yes, Meat Whiplash did play at the notorious 1985 North London Polytechnic gig -- a gig that famously spiraled into utter chaos. (Yes, it was also the name of Barrett's store. One more note: Both the band and the shop took their name from a
Fire Engines'
B-side.) And as the stories go, the
East Kilbride
bampots were partly responsible for whipping the large crowd into a fine froth. According to legend, a wine bottle was lobbed on stage during Meat Whiplash's opening set; the band tossed the projectile back, much to the chagrin of those in attendance. Bassist Eddie Connelly was socked in the kisser. The lads then further agitated the crowd by announcing their closing song would be a 20-minute opus.
Full-blown madness later ensued when
The Jesus And Mary Chain
hit the stage, their notoriously short set shorter than usual. JAMC feedback still ringing in their ears, the audience then invaded the stage, toppling the PA stack, breaking equipment, throwing beer cans.
Six months later -- and certainly taking some of the sting away from the North London mix-up -- Meat Whiplash scored a hit with their seven-inch single,
"Don't Slip Up."
Song spent almost five months on the UK's independent music chart, climbing as high as No. 3.
Rumors persist to this day that The Jesus And Mary Chain's Reid brothers played the instruments on "Don't Slip It Up." Listening to the interminable drone of thick, fuzzy feedback . . . well, one can hear why.
Hear it for yourself.
Download:
"Don't Slip Up" by Meat Whiplash.