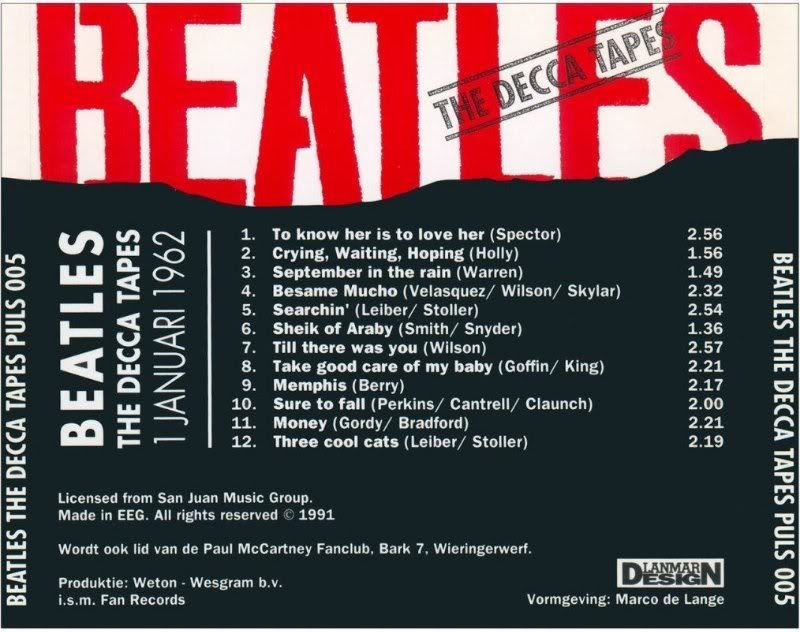 So they say, "Why 'Decca Says . . . . ?'" And I say, "Don't you know the story?" It's about The Beatles. You know,
The Beatles.
The tale been told and retold ad infinitum; you must have heard it somewhere. No? Okay fine, so one more telling won't hurt.
It's New Year's Day, 1962. The Fab Four have zipped down to London for a morning studio audition with Mike Smith, Decca Records' A&R representative. At Decca's West Hampstead Studios in Broadhurst Gardens, the group commits 15 tunes to reel-to-reel tape in less than 60 minutes. A breakneck pace, to say the least! According to the stories, the act that followed The Beatles, Brian Poole & the Tremeloes, were given a contract instead, with part of the reason being their travel expenses would be cheaper (the lads were from nearby Essex). Imagine that rubbish.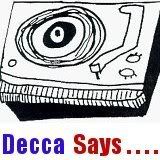 Of course, the main reason the Scousers were given a big, fat N-O was on account of A&R head Dick Rowe's opinion of guitar bands. "They are on their way out," he is alleged to have said.
Fast forward 18 years to New Year's Day, 1980. This here tit-head on the keyboard was just two weeks shy of his 16th birthday. My older sis got me a rather nifty present that birthday: The Cure's 7'' single "Boys Don't Cry." I was hooked -- not necessarily on The Cure, but on fetching, chimey, shiny, bouncing, catchy guitar pop. Creation, Cherry Red, Backs, Sarah, Dreamworld, Rough Trade, Pink, el, Egg, Subway Organization, 53rd & 3rd, Fire, Postcard -- I swore by these labels. For the next decade, their tunes provided the soundtrack to my sometimes tumultuous, sometimes tepid life. (Okay, I fib: Mostly tepid.)
So they still say, "Why 'Decca Says . . . . ?'" And I say, "Decca says guitar bands are on their way out. And boy, were those muppets ever wrong."
Here are some '80s tracks that remind me of The Beatles:
"The Queen Of Eyes" by The Soft Boys
"Isn't It A Pity?" by Galaxie 500
( I cheated a smidge with this one.)
"The Loving" by XTC